Intelligent turbines
What gets measured, gets managed. In the age of intelligent industry, we measure everything.
Dashboard is looking to solve industry's toughest problems and enable a future where energy and industry is cleaner, greener and more efficient. Our IIoT solution helps make turbines intelligent, whether they're cutting-edge airborne wind energy or a decade old turbine.
What issues can Dashboard's IIoT solution solve?
Over three quarters of wind turbine failures are the result of gearbox bearing failure. This has the consequence of losses made in both repairs and energy generation.
We have identified efficient inspection and maintenance as fundamental to maximising operational returns. For the last 20 years, root cause analysis identified issues in hardware faults. Problem solvers try to find the earliest indications of possible system failure and today's solutions build on this success.
See below a short case study on our work for the WindTwin project. A 30-month project funded by Innovate UK to develop a solution for the preventive and predictive maintenance of wind turbines. Experts across the UK specialising in innovating data and physics, collaborated to create this hybrid twin solution.
Case Study: The Windtwin project to revolutionise wind turbine technology
Developed for the wind turbine industry, the WindTwin project provides a solution that mitigates the growing maintenance and operational costs of running wind turbines. In turn, this optimises the energy generated through providing more reliable, in-service wind turbines.
Dashboard worked with some of the UK's top engineering technology experts including Agility3, Brunel University London, ESI and TWI Ltd following a successful proposal to Innovate UK, the Government agency behind finding and driving innovations that will grow the UK economy.  Alongside the consortium there was also a board of industry advisors whose support, insight and knowledge was invaluable throughout the project.
The 30-month project was completed earlier in 2020 and the results harnessed digital twin technology in the form of a high fidelity, digital software platform combining operational sensor data with virtual system model data to enable the predictive maintenance of wind turbines.
To facilitate this, the consortium members were responsible for developing and integrating a number of enabling technologies including high-performance cloud computing, system fault and degradation modeling, data analytics and visualisation.
Dashboard's involvement in the project included developing a vibration sensor to identify developing issues before they become a problem. This in turn produced a solution for wind farm monitoring using 3D visualisations. You can see below some imagery and videos of the 3D visualisations developed with our partner Agility3.
Dashboard looks forward to the opportunity to work with our partners on the Windtwin project for future remote monitoring solutions that will support efficient and cost-effective maintenance of not only wind farms but other renewable sectors within the energy industry.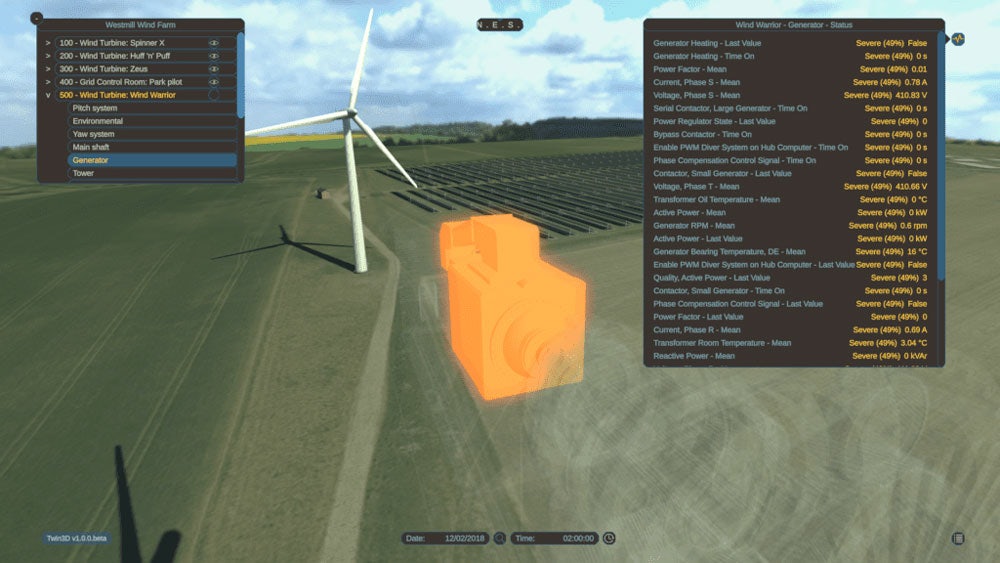 Explore how our remote monitoring solutions can help you
The WindTwin project was just the starting point for exploring our IIoT solution for remote monitoring in the energy sector. As we continue to develop and refine our solution with our growing team of engineering experts, we would like to explore a detailed analysis of vibration/acoustic signature. 
At the same time, we will enrich this with data captured by the existing systems. The resulting insights will enable the predictive maintenance of the machinery and components. This will keep wind turbine generation at peak capacity for longer. The added benefit to business will be twofold. First, minimising costs, and then extending the operational life of the asset.
To read more about the future of wind power, head over to our blog where we discuss the technologies improving its effectiveness including our IIoT solution.
Email us at info@dashboard.net to discuss how our remote monitoring solution can improve the efficiency of your wind turbine business. One of our team will be in touch to fully assess your requirements and then provide feedback on how we can best work together.